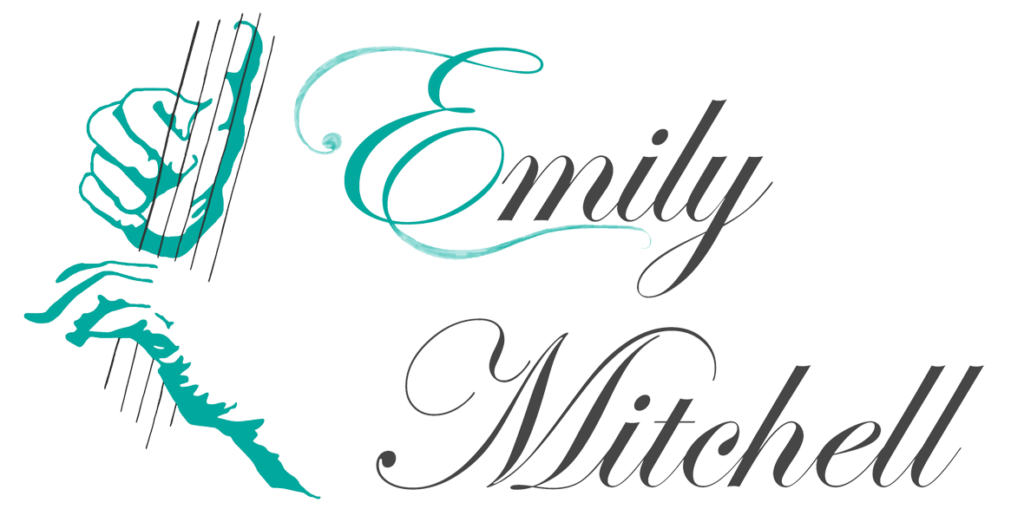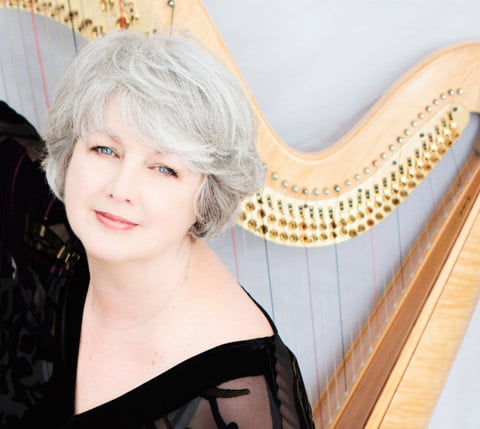 Emily Mitchell has earned critical acclaim as "a marvelous harpist" (The New York Times) who captivates her audiences with "playing of the utmost delicacy, beauty and subtlety." (Records and Recording) In the words of The Washington Post, "Mitchell commands a vivid palette of colors and uses them with imagination."
Ms. Mitchell has been heard worldwide as a concerto soloist, recitalist, and chamber musician. She has been profiled on The Today Show, Good Morning America, CNN, the BBC, Radio France, Arts & Entertainment, the New York Times' WQXR, National Public Radio's Performance Today and People Magazine among others. Past performances have included Mozart's Concerto for Flute and Harp with Sir James Galway with the Orchestra of St. Luke's in Carnegie Hall, performances before British Royalty at the King's Lynn Festival, UK, The Waldorf Hotel in New York City and the British Embassy in Washington, D.C., and performing for First Lady Rosalynn Carter at The White House.
Emily Mitchell enjoyed a 30-year career in New York City where she was Principal Harpist for the incomparable Eos Orchestra. She was an established name in the television, motion picture and recording studios of NYC and taught on the distinguished faculties of New York Univeristy and Purchase College. Ms. Mitchell toured the United States as a soloist and chamber musician for Columbia Artists' Community Concerts for many years. She relocated to Texas in 2008 and was appointed to the music faculties of Stephen F. Austin State (2011-2018) and Sam Houston State (2016-2018) Universities. She was Artist in Residence at Stephen F. Austin State University. While in Texas Ms. Mitchell performed with Saint Cecilia Chamber Music Society in Houston, Better Than One harp duo with Jaymee Haefner, and was director of The New Houston Harp Ensemble and the Celtic Harp Band. Living now in Albuquerque, New Mexico, Mitchell has worked with the New Mexico Philharmonic, Opera Southwest and Opera West. She is Acting Principal Harpist for the El Paso (TX) Symphony Orchestra.
Emily Mitchell's discography includes her popular voice and Celtic harp recordings for RCA Victor. Championing the works of flutist and composer, Gary Schocker, Changes is her most recent and fourth CD of Schocker music including Garden in Harp and A Harp for Christmas, Volumes 1 and 2, all released on the Albany Records label.
A graduate of the Eastman School of Music with Performer's Certificate and an Associate with honours from the Royal College of Music, London, Ms. Mitchell won the coveted First Prize at the prestigious Seventh (1979) International Harp Contest in Jerusalem.
2000, "Mitchell commands a vivid palette of colors and uses them with imagination"
Joan Reinthaier
The Washington Post
1982, "Some of the concert's brightest moments came from harpist Emily Mitchell."
Valeria Scher
Chicago Sun-Times
1980, "The first thing one noticed about Emily Mitchell's playing was her mature, incisive musicianship: her sure grasp of style, her ability to mold long phrases, the bold intensity of her climaxes. It seemed mainly incidental that she also proved a superb executant, demonstrating a broad range of color and dynamics, and unusual facility in running passages. In short, Miss Mitchell is a marvelous harpist whose technical skills seem always at the service of the music."
Joseph Horowitz
The New York Times
1979, "The golden quality of her tone, her extraordinary awareness of musical expression and nuance, her impeccable technique made her performance an unqualified pleasure."
Benjamin Bar-Am
The Jerusalem Post
1977, "A sparkling, silvery Orpheus of a player whose gossamer-like runs managed to tame even the wild beasts of the South Bank, Mitchell is clearly an artist of the highest potential, far from the utilitarian twanger…"
Robert Maycock
Classical Music Weekly Magazine
1976, "The tone was bright, ringing and strong, the textures scrupulously clear and the rhythm keenly maintained; Miss Mitchell's sense of purpose and direction was never in doubt."
The Times London
Paul Griffiths
2016, Recording: Changes, "Mitchell and Schocker a Great Musical Duo…Beautiful, haunting and audience pleasing works…pure pleasure in listening…One only wishes that more recordings will be made…"
Dennis Ferrara
Amazon.com—Editorial Review
2001, Recording: Mozart Variations, "A peaceful, civilized oasis in a turbulent world."
Dan Davis
Amazon.com—Editorial Reviews
2001, Recording: Mozart Variations, "Mitchell's musicianship is so good, her sound so seductive, and the music itself so charming that you are bound to find the disc an irresistible treat."
Music Reviews
Secrets of Home Theatre and High Fidelity
2000, Recording: Impromptu, "well-crafted, beautifully polished…beautifully shaped…a pleasant way to give the right brain some stimulation…"
American Record Guide
1980, Recording: Emily Mitchell 1st Prize Winner 7th Israel Harp Contest, "playing of the utmost delicacy, beauty and subtlety"
David Denton
Records and Reviews